So week 3 is in the bag. There's only been a couple of days I've had trouble finding an outfit–particularly if I try not to repeat much. I really love my pencil skirt-tank-cardi combination. But I only have two pencil skirts that fit well. Sigh.
And, yes, I'm still in desperate need of tops that aren't tanks/tees and cardigans. And I need about five more work dresses.
I'm doing a clothing swap today, hoping to find good homes for a few me-made items that no longer fit my generous boobs. Sigh. Getting older. It also threw into relief that I have almost no tailored shirts anymore. Judging by the number I'm getting rid of, I wore them all the time. Now? I have two or three.
But it's been a fun experiment. I've only just started this blog so I've never really documented what I sew–or how much I sew. All my friends know I do…but I think I've surprised some people by how much of my wardrobe–particularly the more interesting elements–are made by me. 🙂
I broke the photos into two sets as I had some days with two outfits.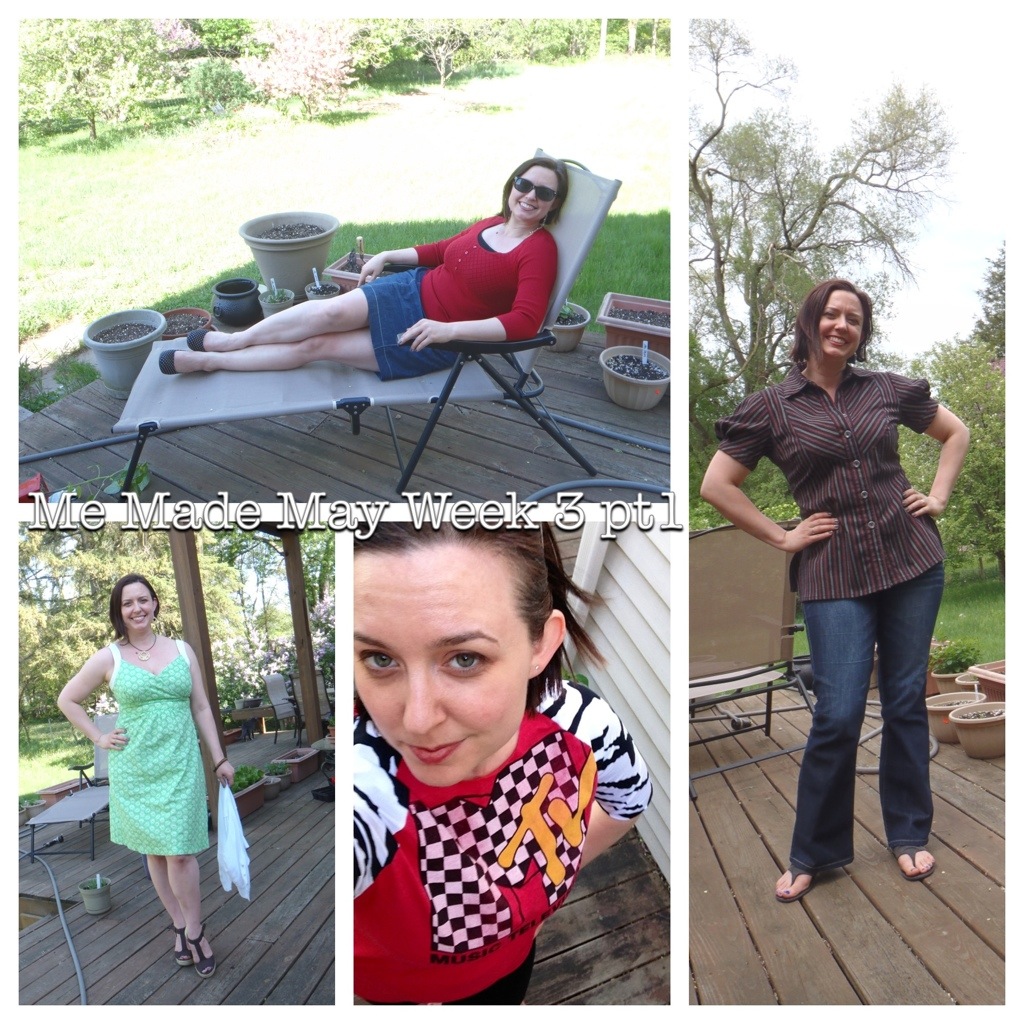 Counter-clockwise from top left:
15. Vogue 8603, denim skirt. Worn twice already. 😉
16. New Look 6774 in bright cotton and muslin. This is the first time I attempted an FBA. When I first made it (3-4 years ago), FBA was too generous. Now that I'm cruising through my 30s and genetics has taken it's toll…it fits perfectly. LOL It's probably a little too low-cut for work, but it's serviceable.
16b. Built by Wendy Sew U Knits raglan sleeve tee, men's XL t-shirt and spandex scraps. I love rebuilding tees. Men's shirts have better designs than women's but I don't wear unfitted t-shirts.
17. Simplicity 3684 in stretch woven cotton-blend. I made this almost 7 years ago, worn first (without the buttons!) for my engagement photos. I love stripes and playing with directions on stripes.


Clockwise from top left
18. Simplicity 1800 in cotton. I had major fit issues with this dress when I made it. The bodice fit well (it's a multi-cup pattern) but the back had to be taken in several inches. It was ridiculous! But it was comfy for going to watch Star Trek: Into Darkness
18b. Self-drafted 4-gore trumpet skirt in stripe knit. I LOVE this skirt. Love. It's better than RTW because all my stripes line up. I initially made it for a bellydance costume but have never worn it as such. I wore this to see my husband's rock band perform at a local country club (yeah, I raised my eyebrows too). It was breezy and comfortable for a warm night outside.
19. not pictured; didn't leave the house
20. Cowl neck tank McCall's 6078 in cotton-blend knit burnout. My go-to tank pattern. Comfy and quick. I was soooo sleepy that morning.
21. Black stretch bottomweight Vogue 8603 w/ self-drafted pockets. Second time worn this month; it won't be retired any time soon.