My husband was traveling this week so I managed, in drips and dribbles, to get a new pencil skirt sewn. I realized I reach for my denim skirt all the time. I wear it once a week, minimum. And while I do have a black skirt, I rarely wear it (the fit is a little off and, as cute as they are, the pleated skirt back gets annoying when you sit at a desk all day).
But my favorite skirt (Vogue 8693) doesn't have pockets. So, taking inspiration from another skirt, I added slashed pockets.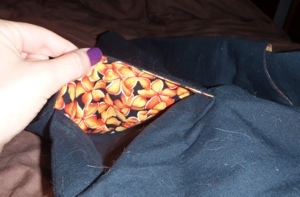 I used some stash stretch woven and used the last bit of bright floral for the various facings. I attempted to bind all the seams with coordinating binding, but I ran out. 🙁 The side seams and hem is finished with the serger.
I wore it for my birthday. It's always nice to have something new for my birthday.
I forgot to interface the pocket openings, which is a bummer. It will certainly affect the wearability. Other than this stretch woven wrinkles horribly, it is plenty comfortable.
The next skirt variation I'd like to try will be a simple darted pencil skirt to use with single yard prints.
But I need to get cracking on my blazer and try to pick out another one to try.