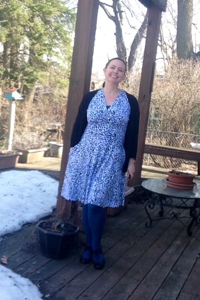 I finally got around to trying some Cake patterns. Why ever did I wait so long? Seriously, everything went together like a dream!
First up, my first Tiramisu. I cut a 30D/32.5 (with a small amount of consultation with the lovely ladies of Cake; I'm right at the border between the size 30 & 35) from a lovely, hefty cotton knit (it has a smooth, soft hand and pretty good recovery; it skims without clinging). The fit: very nearly spot-on! I made no other adjustments aside from shortening the skirt considerably (and will shorten the pattern some more before my next iteration). The most surprising for me was that the back fits exceedingly well. In just about everything I've made for the past six months, I've had to narrow the back (often considerably). This fits damn near perfectly.
As for construction, it was largely straight-forward. I didn't pay strict attention but I did find the details around sewing the side seams (and accounting for the pockets) a little lacking–especially if I was a beginner sewing. That said, most of my issue probably stemmed from attempting to construct the dress as much on my serger as possible. Speaking of the pockets, I may leave them off future versions. I love the idea of pockets…but not these pockets. I found they add an odd bit of bulk to my hips and were a bit floppy. I may experiment with some other variation.
I do have one minor fitting issue to tweak out: the upper chest area is a bit loose and I find the crossover just a touch too scant for my generous bosom. I think I have enough room to increase the crossover and still have enough room for the bust-shaping-gathers. As for the upper chest, I have an inkling of making a slash and reducing the shoulder area by a small amount and maybe easing it into the back. Or I might take a similar amount out of the upper back.
While I was purchasing Tira, I also bought Espresso (leggings) and Cocoa (shrug). I haven't had a chance to work up Cocoa (largely because it isn't warm enough yet to warrant wearing a 3/4 sleeve). But  I did make up two pairs of Espresso. The first pair you can see in the indoor photos. They're an odd lyrca-ish tie-dye I found on deep discount. The fit is pretty darn good right off (after consulting the measuring reference on the website). I didn't pay attention to her elastic measurements as I have one that (usually) works for me…not so much on that pair. I'm not sure if it's the fabric or the elastic (a slightly different style than I normally cut) but I'm going to have to do a little tweaking of the waist; they fall down right now. Whoops!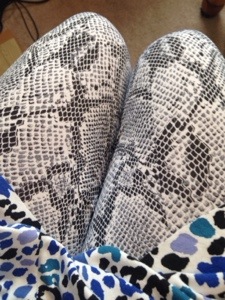 The only other fit issue I had was that I found the back rise to be a little short. When I first measured, I found that my front and back rise were identical (or maybe I simply measured incorrectly). Now, maybe if you're making waist-high leggings, that makes sense but I can't stand elastic at my waist and was measuring from my high-hips. I've sewn leggings/yoga pants before and know I need a higher back-rise than front-rise. I raised it by an inch for the tie-dye pair but it wasn't quite enough.

Since it's such a simple make (and I still had the serger threaded for white), I thought I'd make my one adjustment (I raised the back-rise by another inch) and try out a second pair. These are in a snakeskin print. Who knows the content; it's another deeply discounted mystery purchase. This time: perfect.
While I was taking a couple of outdoor shots, my kitties realized that horrible, cold, white stuff had retreated enough for them to take a sniff around the deck. Benden was a little shy but Khyber wanted to help me take photos.